Photographs of the 'World Series' Eclipse
By Robert Roy Britt
Senior Science Writer
posted: 27 October, 2004
10:56 p.m. ET
_____________________________________________________________
Updated at 5:13 p.m. ET Friday, 10/29

Earth cast an eerie shadow on the Moon Wednesday during a total lunar eclipse that delighted skywatchers on several continents. It was the first total lunar eclipse ever to coincide with a World Series game.
Earth got in the way, blocking sunlight that normally reflects off the Moon.
For skywatchers with clear skies in most of Africa, Western Europe and North and South America, the shadow crept across the Moon over the course of several hours, repeating a geometric phenomenon that
frightened ancient cultures
, leading to grand superstitions and even affecting war and conquest.
Eclipses are of no particular interest to professional astronomers nowadays, but avid backyard skywatchers try never to miss them.
"It's a spectacular show," said Davis Sherman, who watched it from the Maryland Science Center.
As expected, the Moon never turned completely dark. Light from all the world's sunrises and sunsets was bent during passage through Earth's atmosphere, causing some to fall on the Moon and reflect back.
The swooners' favorite beacon turned orange-red.
"What a Halloween Moon," exclaimed one viewer in Northern California, watching sporadically between clouds.
The sky show played out early Thursday in some time zones.
Lunar eclipses occur only at full Moon. But not every full Moon produces one, because the orbit of the Moon is offset in relation to the plane in which Earth travels around the Sun.
Another total lunar eclipse will occur on March 3, 2007, a longer-than-average wait for the next of these erratically timed but fully predictable events.
More Photos of the Oct. 27, 2004 World Series Eclipse
SPACE.com visitors sent in many great photos of this total lunar eclipse, showing its various stages and the deep red color that developed during totality. Photographers here ranged from an astronomy professor to serious amateurs with expensive setups, people who simply held their camera by hand up to the telescope lens, and some first-time eclipse shooters.
_____________________________________________________________
Images:



Phil Harrington, author of "Eclipse!", watched with others from the campus of Dowling College in Oakdale, New York, where he's the astronomy professor. His account: "As the umbra progressed across the lunar disk, it became apparent from the brightness of the eclipsed portion of the lunar disk that this was going to be a bright eclipse. Indeed, as totality began and continued, the Moon took on a dark orange, coppery color that was punctuated by a bright, slightly yellowish glow along the northern limb. The montage shows the progress of the eclipse with Fortunoff Hall in the foreground."



This webcast image showed the Oct. 27, 2004 eclipse prior to the totality phase. It was taken by Carsten Arnholm in Oslo, Norway. The webcast was run by Astronomy.no.



Arnholm captured the eclipse again as the Moon began to turn red.



A mere hint of direct sunlight graces the right side of the moon as totality began under Arnholm's watch.



Russell Croman, Austin, Texas. Larger versions of each image in this sequence, along with other astrophotographs, are here.



Bill Lohrer, Long Island, New York



Charles Juszczak, Sturgis, Michigan



Mark Haccou, Vernon, BC Canada



Andrew Brunetti, Littleton, Colorado



Becky Ramotowski, in Tijeras, New Mexico, has become very proficient
at holding her digital camera by hand up to the telescope.



Becky Ramotowski, Tijeras, New Mexico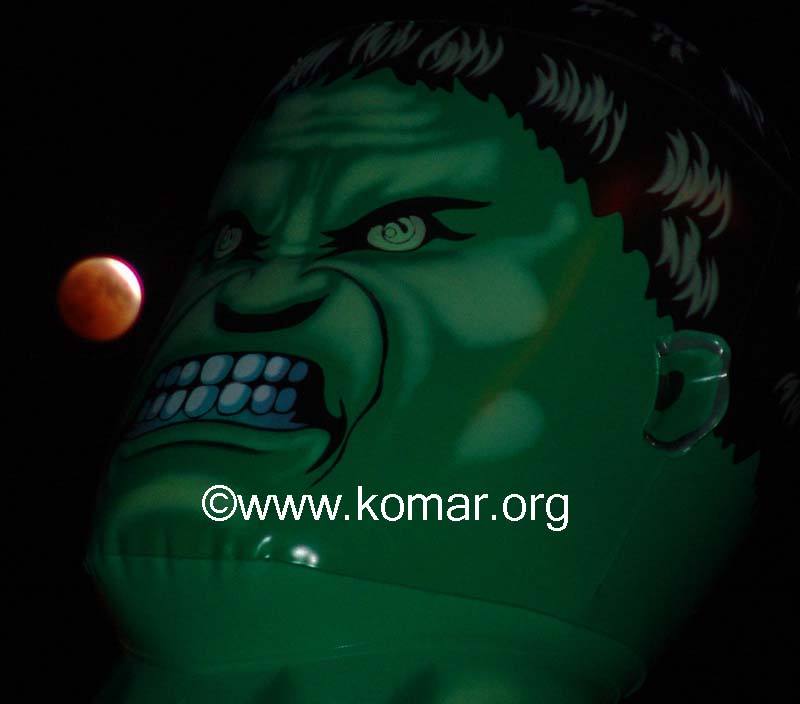 Yes, this one is real, too. Alek Komarnitsky had a little fun with a prop during the eclipse. Read about it.
_____________________________________________________________

-- The Associated Press contributed to this story --

_____________________________________________________________
CREDIT: SPACE.com