Fundraiser link
:
http://rkthb.co/8765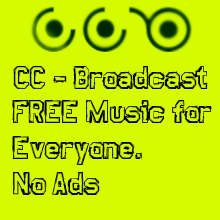 Few years ago there was
one of the most popular internet radio stations
in Latvia called LIR. It drained our wallets as we did not get any funds and all work was
voluntary
. After 4 years of online play, we decided to stop this project as a world crysis cut our money limits. So after 3 years the
project rises
once again - this time internationally!
What is CCB?
It`s Creative Commons Broadcast.
What is the mission of CCB?
To broadcast best of music worldwide, without any interuptions (advertisment) 24/7. Big music corporations are making music industry into a joke - CCB radio is here to promote those, who decided to not go along this path - free artists.
Why CCB needs help?
The answer is simple - HQ audio servers are expensive and 300$ would be enough to kick this project.
What I get from donating? Same thing as us - warm feeling plus opportunity to enjoy real INDIE RADIO and be listed in radio donator list.
If we over reach our goal - all money will go to creative commons
organisation.
http://creativecommons.org/ 
This radio stands for
FREEDOM, LOVE and MUSIC!
So if you are interested to help, but have no funds - don`t worry. You can help a lot also by making this project more popular! Share the donation link.
ccbroadcast.com - site is under construction.
Website is ready and is awailable only in offline. Here are snapshots of it: