[The beginning of everything]
Summoning Princess,
still looking at me,
bliss fills my whole world,
when I leave without regret in my heart.
You will stay here for thousands of years.
A warm memory, children's joy,
love for things, not worth much.
One player, so many memories,
in this colorful, full notes body...
Still immortal, my Winamp Classic ...
...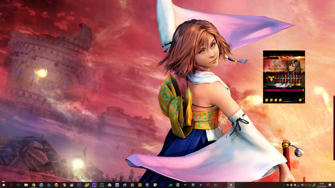 Real size my desktop view.
PS.
My first skin on my first PC win98 Pentium I, 200Mhz, 64 Ram. (best Windows ever made). -> win 10 (crap).
I buy it as kid for 13,15 USD = 50 PLN. Power button is 3x3 cm big.
Yuna Braska - Final Fantasy X (hair clip is REPEAT BUTTON with animation when click),
and other like animated cursor with other character from game.
Then i can only use winamp *.mp3 paint movie and dos games but... i still wont back...
Now i have 37 years and still remember that time...
Made on Skinamp program. And little hand made modification.
Now my pc work 100% speed with witcher on ultra but i still play Missionforce Cyberstorm and Unreal.
Cheers from Poland.