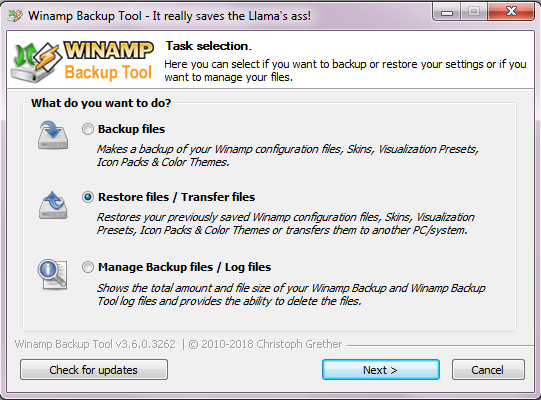 Website | Download | Changelog | Screenshots
Features
- Allows you to backup/restore all of your Winamp settings, media library database, plugin settings, skins, visualization presets, tray control icon packs, file type icon libraries and even your Winamp Pro reg data!
- Allows you to create several zip compressed backup archives!
- Allows you to transfer all your settings to another PC
Very nice interface with a step by step wizard
- The tool is very fast
- The tool is aware about all of the dependencies of the many Winamp settings
- The tool remembers your settings for next backup/restoration
- The tool can create powerful HTML5 log files for backup and restoration mode
- Choose between standard Zip and 7-Zip compression for your backup files
- Tool is available in several languages!
Localization
If you want to translate the tool into your language, download and translate the English template file from my website:
Download English Example Language File
Please read careful the infos in the language file. You can upload your translation directly in the thread.
Test builds will be available on Xlat* (for all who have access), or I can send them directly via mail:
*There will be one recompile each day, which includes latest language file(s) I got them.
So feel free to provide as many updates for your language file, as you want.